We Stop IRS Bank And Wage Levies in as soon as 24 Hours!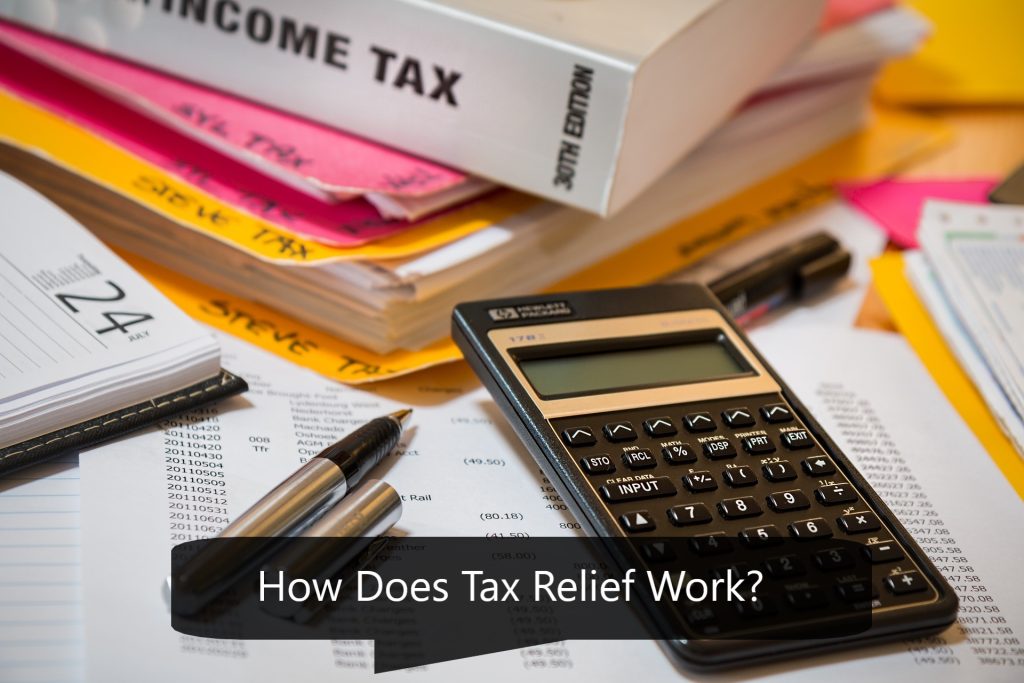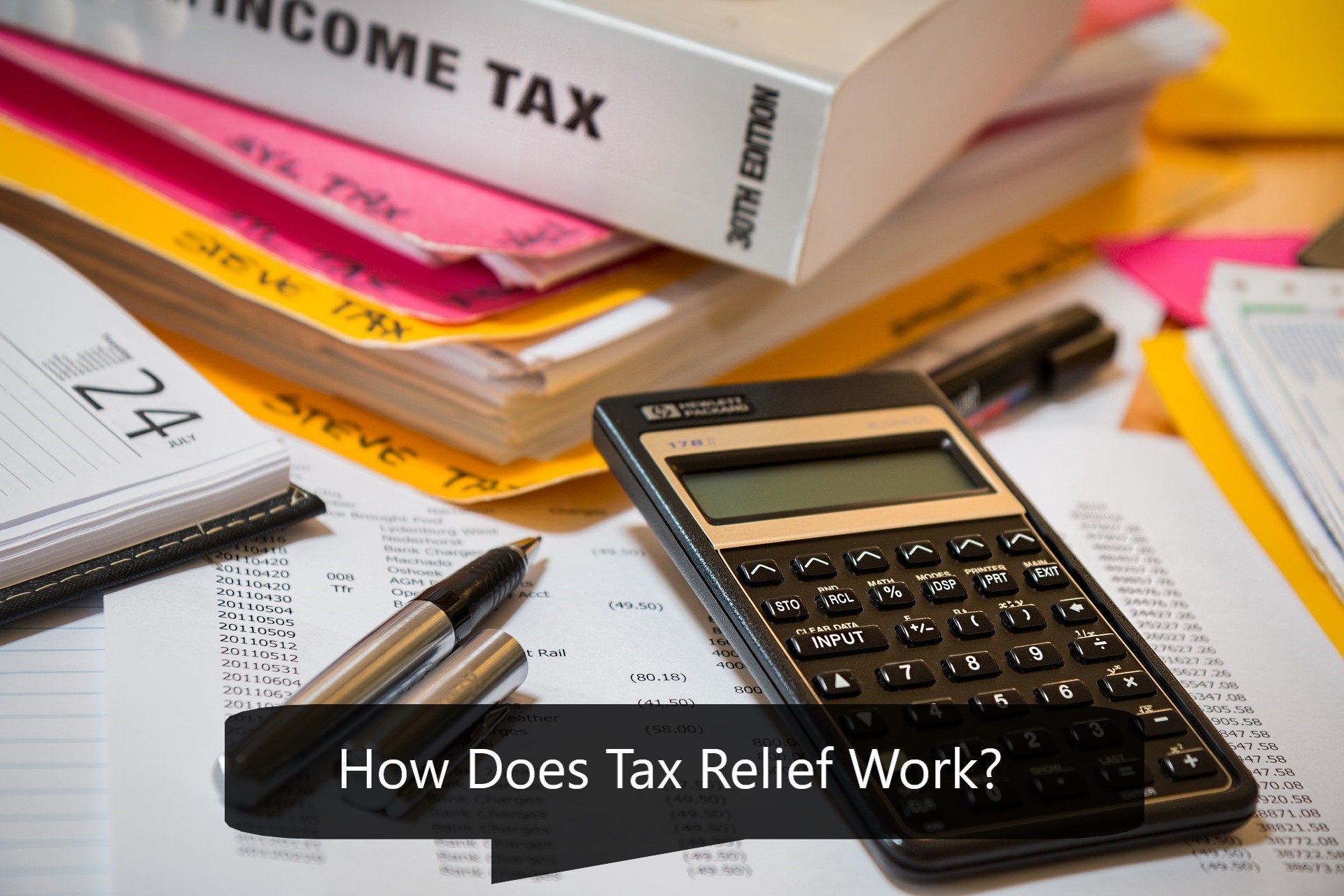 FREE Tax Analysis by the End of Your Call
How Does Tax Relief Work?
Table of content
Let's start from the top,
Are you struggling with an IRS bill staring up at you from your desk? Do you need to find help getting tax relief from the IRS? The truth is that you're not alone. You may find yourself in the middle of tax debt that's racking up year after year with no end in sight. And this can be entirely overwhelming and stressful for so many taxpayers.
After all, getting the tax debt help you need can be a confusing and stressful process filled with failed applications and setback after setback. A government study estimates that as many as 21% of taxpayers may not have had enough of their taxes held in 2018. This creates a discrepancy when it comes time to file your taxes and one that can create debt problems with the IRS.
So, what happens when you find out that you owe Uncle Sam, but you don't have enough available funds actually to pay your bill? Don't worry. There is good news if you find yourself in the stressful situation of needing tax relief, and you don't have to start panicking. Why? Because the IRS has created multiple different tax relief options designed to help you get the tax debt help you need, and pay off your debt faster than you ever thought possible.
The tax relief programs created by the IRS are designed to allow you to break down your debt into smaller payments or even reduce the amount of taxes that you pay back to the government. No, you cannot wipe out your tax bill completely—and the interest may end up costing you more in the long run—but a tax relief program might just make paying down what you owe to the IRS all the more manageable.
The tax specialists at Ideal Tax Solution are here to help you navigate the complicated, red-tape-filled, and overwhelming process of IRS tax debt forgiveness. Our tax pros are here to help you solve your IRS tax problems once and for all.
In this article, How Does Tax Relief Work. We're going to dive into everything you need to know about how tax relief works, the different programs that you can use to lower your tax debt, and how to qualify for tax relief. Our tax specialists have also put together an in-depth list of the many different eligibility requirements that the IRS requires so you can be well on your way to tax debt-free.
What is tax relief? 
Tax relief is typically a means or program that is designed to help you create a payment plan or even negotiate a settlement with the IRS. It's not about actually erasing your tax debts and obligations because that's simply something that's not possible. However, the IRS has created tax relief programs that are structured to work with you and your current financial situation to create a pathway to debt-free.
They have created relief programs for victims of natural disasters like wildfires and hurricanes, and they even sometimes offer these relief programs as special tax reliefs. If you are the victim of a disaster, you may qualify for deadline extensions. You may even be eligible to claim what is called casualty losses on your federal income tax returns.
What are some of the relief programs available? 
There are quite a few different relief options available to you as a taxpayer, and each of them has its own set of eligibility requirements based on your specific circumstances surrounding your unpaid debt.
These are a few of the most common relief options that are currently available through the IRS tax debt relief programs.
Installment Agreements
Installment agreements are designed to make it possible for you to be able to pay down your back tax debt in chunks if you can't pay the total amount due. The most common repayment period for most taxpayers in a similar situation is over 72 months. However, this option is only available if you have less than $50,000 in combined tax debt, interest, and penalties.
Innocent Spouse Relief
The innocent spouse relief program was created for spouses of persons convicted of tax fraud or other crimes related to inaccuracies in their tax returns. It helps you avoid penalties that stem from their crimes.
Offer in Compromise
Offer in compromise is the most common of the tax relief programs available and is considered a settlement for your total tax debt. If you qualify for it, you can pay far less than the total amount of what you owe to the IRS.
Currently Not Collectible
The currently not collectible program is designed to be a clean slate program for taxpayers that can prove they are not able to pay back their tax debt. However, please note that no matter what situation you qualify for, this program does not mean you aren't paying anything back that you owe the IRS. There is no such thing as getting away from tax debt free and clear with no repayment.
Qualifying for tax relief programs isn't an automatic thing. Just because you've been able to meet the eligibility requirements doesn't mean that the IRS will approve you for one of the many tax relief programs.
How To get tax relief?
There are many different strategies for tackling the taxes you cannot afford to pay back in full when they're due. Of the programs we listed above, we want to take a moment to dive into four of them in particular because they are the most common ones that many taxpayers use to overcome their tax debts.
IRS Repayment Plan
The IRS repayment plan is built to allow you to break down your full past balance into smaller payments. To be able to qualify for a long-term repayment plan, which is considered over 120 days or longer, you must owe $50,000 or less in combined taxes, interest, and penalties. However, while IRS repayment plans can be helpful if you don't have the funds to be able to cover your tax bill, they do come with a cost to you. And it all depends on the option that you choose because you may pay a setup fee of up to $149 plus any penalties and interest until your full balance is completely repaid.
Offer in Compromise
Offer in compromise is the most common of the tax relief programs available and is considered a settlement for your total tax debt. If you qualify for it, you can pay far less than the total amount of what you owe to the IRS. This program is designed to allow you to settle your debt for less than you owe if you've been struggling to keep up with it all. If paying your tax debt would cause financial hardship, then this program is one that you want to be sure to consider in your tax debt repayment journey. When you apply for an Offer in compromise, the IRS will look at factors like:
Your ability to pay
Your income
Your expenses
Your assets
To understand if you qualify to settle your tax bill for lower than what you owe, be sure to check out our previous blog post on everything you need to know about qualifying for IRS forgiveness here. (insert link)
Penalty Relief or Interest Abatement
There's always a chance that you will qualify for penalty relief from the IRS, which means that the IRS forgives the penalties that you've been charged with the time you've owed them money. You can qualify for this as long as you meet certain criteria. For instance, if you've not had any penalties for the past three tax years or paying or arranging payment for any taxes owed. Of course, you will still most certainly owe your taxes even if you do qualify, but what the penalty relief or interest abatement program does is allow you to reduce your overall debt amount after the penalties are removed from your overall balance.
Personal Loan
One option to consider that many people in your situation do is to take out a personal loan to cover their tax bill so that they don't continue to rack up more tax debt for another year. You want to be sure to do your research if you're considering this option to get some tax debt relief because you want to get the best rate available. However, this method of getting your tax debt repaid can come with consequences because you may just be trading one long-term debt you can't pay for another.
What about tax relief companies? 
Tax relief companies specializing in helping you reduce your tax debt and negotiating with the IRS on your behalf can sometimes be the best route possible.
If you have been hit with a Tax Debt bill and cannot pay the entire amount in a lump-sum payment, you may be eligible for an Installment Agreement from the IRS. When you choose to do a payment plan, you're able to easily reduce your overall tax liability so you don't have to continue paying interest and penalties. Just remember to keep making your payments on time.
At Ideal Tax Solution, we work on your behalf to negotiate for the best possible outcome for your tax debt, walk you through the entire application process, and ensure a worry-free process from beginning to end.
When you hire a reputable tax relief company like the specialists at Ideal Tax Solution, we help solve your IRS tax problems once and for all.
While we understand that we are not the only company that can help you negotiate with the IRS, we are great at what we do. Other third-party companies will represent you in your tax repayment journey, and whomever you choose to hire, be sure that they are reputable and qualified. Why?
Because the Federal Trade Commission (FTC) cautions that only certain tax professionals have the authority to represent you with the IRS. These include:
Tax agents that are certified to represent you.
Certified Public Accountants (CPAs)
Attorneys
No matter who you hire, there are high upfront fees and costs, unfavorable refund policies, and even default billing rates that kick in even if you cancel, cut, and run right away.
Always meet face to face with any tax professional you're considering hiring to help you navigate the complicated process of tax debt relief. You will want them to be able to walk you through the entire process, what your options are, and get a feel for the way they work in the industry. And do it all before you sign any agreement or contract for their services.
What about Preventing Tax Identity Theft?
In addition to your outstanding tax debts, you want to ensure that you're also diligently looking out for any potential signs of tax-related identity theft. For instance, if you've ever lost your wallet, had your personal information jeopardized in a data breach, or had your mail stolen, you may be more at risk for tax fraud identity theft than you think.
Here are some of the Ideal Tax Solution tax pro tips to help you protect your identity when it comes to tax time:
Keep any documents containing your Social Security number in a safe place.
Don't give out your personal information, such as your Social Security number, date of birth, and so on, over the phone or online unless you initiated the contact.
Be sure to request your unique Identity Protection PIN
Do Unpaid Taxes Affect My Credit?
The truth is that yes if you owe the federal government money, it's going to impact your credit score directly. For example, when you apply for a loan or other types of financing, there may be lenders that check public records reports, and your unpaid tax liens will show up there. In addition, if your tax payments have an impact on the rest of your financial picture and do cause you to be behind on other bills, your credit scores will be affected.
Being in debt to the IRS is a stressful and overwhelming experience for anyone, but that doesn't mean that you're on that journey alone. There are quite a few different tax relief programs available to you to take advantage of and get ahead of your tax debt. However, the last thing that you ever want to do is to avoid the IRS and repaying them because they will garnish your wages, repossess your property and possessions, as well as withhold your future tax refunds, for starters.
Call the specialists at Ideal Tax Solution for all your tax relief needs!
If you're ready to stop stressing about your delinquent taxes all the time and start taking control of your tax debt, call the tax specialists at Ideal Tax Solution today. We help match you with the right tax relief program that's best suited to fit your needs.
Our tax professionals have the experience and expertise to walk you through the entire process and build a repayment plan built specifically for your unique needs. We've helped thousands of people step out of their tax debt burdens by creating tax repayment plans designed to reduce the amount you owe and give you the peace of mind you deserve.
And the best part of it all? We create a personalized tax repayment plan for you for free! That's right! Free! When you work with a tax attorney, they'll charge you exorbitant fees for the same service.
Isn't it time that you stopped worrying about your growing tax debt, monthly interest payments, and penalties, and started taking control of your repayment plan?
Call us today to find out how one of our tax specialists can help you through the entire journey from start to finish. We take a collaborative approach to curating a tax plan for you. Your dedicated tax professional will work with you to intimately understand your financial situation, and your tax debt, and help to identify the best plan for you.
We strive to ensure you find the best tax debt relief program, provide you with the guidance to understand every aspect of your options, and choose the right one for you. This way you can stop worrying and stressing about your tax debt, penalties, and interest and start living the worry-free life you want.
Are you done living at the mercy of your next IRS bill?
Do you want to get out from under the crippling stress of delinquent taxes once and for all?
The tax specialists at Ideal Tax have the expertise and knowledge to help you find the right tax relief solution and help you solve your tax problems for good.
Call us to find out how we can take the stress and worry away around your tax debt today!
We provide professional guidance to people whose lives have been affected by tax problems. To evaluate your specific tax issue and determine if you qualify for tax relief,  please contact us for a free consultation. We are COVID-19 prepared, we will work with you over the phone and via e-mail.
The content of this post does not replace the advice of a licensed tax professional. Consult a qualified tax professional for questions specific to your circumstances.
 Based on over 140 Google reviews
Shard Patterson / February 2-2022
Thanks, Ideal Tax awesome job.
I been dealing with Ideal tax solution for some years now, the first person that was doing my case was not up to par. I was not getting results and the IRS was coming back at me, but the new case manager that took over my case came in with an iron fist and took on my case. The end result was she fought and got my tax issue resolved for less than $100.00 awesome job.
Maria Ceja / January 29-2022
They are super professional and helpful
Ideal tax has helped me resolve my IRS tax liability. My case managers Elizabeth and Rachel were super professional and helpful. They helped my every step of the way and were there to answer all of my questions. Rachel even stayed with me on the line helping me sign the final letter. Thank you Ideal Tax
Omar Al-masri / December 21-2021
Honest and Reputable Firm
Honest and Reputable Firm. Did as they say they would with my IRS case. Had past experience with 2 other tax companies and were horrible experiences. Highly Recommend if you have a tax debt that you need addressed through the Fresh Start Programs.
Mildred Tobias / November 15-2021
I was very pleased with the staff from start to finish.
I was very pleased with the staff from start to finish.
Everyone was very professional yet showed so much compassion. Not meeting anyone in person, you felt their need wanting to help you in their voices. I am so pleased I found this group (Ideal Tax Solution) and highly recommend them for your tax issues.
Thanks again guys for being there, take care and be safe.
Tax Problems Don't Solve Themselves.
Put it behind you with help from the experts at Ideal Tax
We Help Individuals & Businesses Across the Country
When you work with Ideal Tax, you can finally rest assured knowing that you will receive the most efficient tax resolution plan that is legally possible.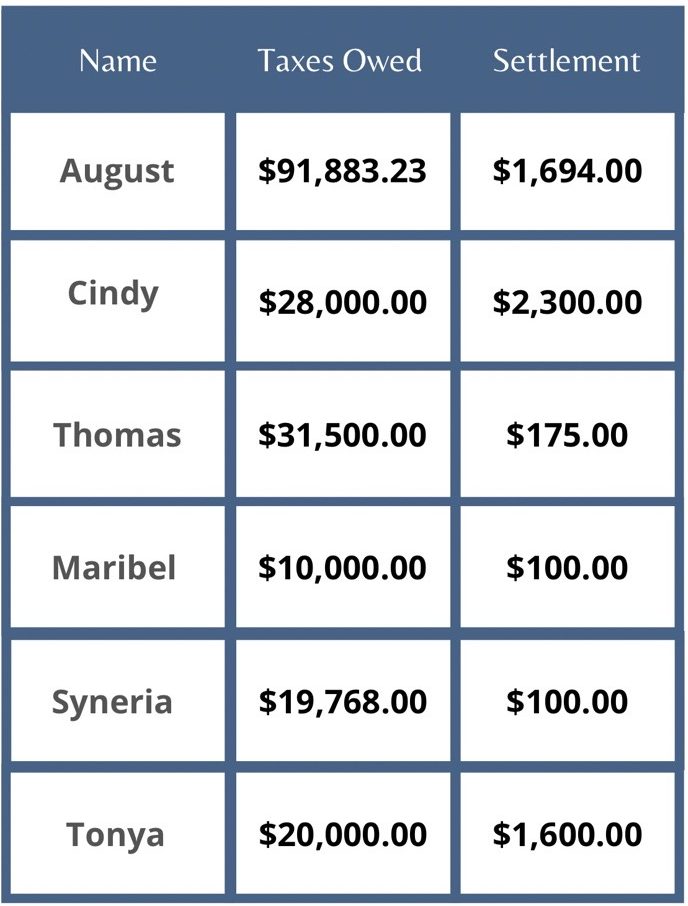 We Take On the Hard Stuff For You, And We Get Results!
Tax Relief is about setting up a payment schedule or negotiating a settlement with the IRS. This is not about getting rid of your tax obligations. It's more about helping you to pay off your tax debt. 
How To Find The Best Tax Relief Help?
Are they qualified to offer tax relief services? While the IRS requires that a representative be licensed as an attorney, CPA, IRS Enrolled Agent or attorney, that doesn't make them eligible to provide such services. 

Tax relief is a highly specialized area in tax law. It is crucial to ensure that the professional or firm you choose has the experience and knowledge necessary to provide the best results.

Are the tax professionals licensed to own the company? There have been many tax relief companies that have emerged to capitalize on the growing demand for their services. However, they may not adhere to the legal and ethical compliance requirements of professional licensure. 

There can be a temptation for firms not to adhere to the rules of licensed ownership. This could lead to a tendency to prioritize sales goals over ethical business practices.

What's their reputation? This is a difficult question because companies who promote themselves online will put information that they want you to see, and exclude the information they don't. 

It is important to use objective and independent sources.

 

To see what customers have to say about their experiences with a company, check out the Better Business Bureau and Ripoff Report.

 

Avoid sites such as "Best of", where companies pay to be included in a positive manner.
Tax Attorney, CPA Or Enrolled Agent?
Experience and performance are more important than any type of license to provide the best representation. A Tax Attorney can represent taxpayers in Federal Tax Court. However, very few cases involving back tax end up there. Most cases can be resolved by the IRS administrative process. It is therefore important to hire a representative who is both familiar with the Internal Revenue Manual, IRS Tax Code and is skilled in applying the rules. It is important to be able to talk to the potential representative and not just a salesperson to make the best decision.
How Much Does Tax Relief Cost?
Tax relief services can cost anywhere from a few hundred to thousands of dollars. It all depends on the type and number of services you need. The cost of tax relief services can also vary depending on the person you choose to represent you and how they bill you.
Will I Qualify For A Tax Settlement?
The IRS is the only entity that can make the final decision. However, qualified tax relief professionals can help you determine if your situation qualifies for the program. Our CPAs, EAs have been able to determine whether clients are eligible for the program with an accuracy of more than 90%. OICs that are successful average savings of 95% on the balance owed.
Will Tax Relief Solve My Tax Problem?
Reputable tax relief companies will conduct a thorough assessment of your situation with licensed tax relief professionals. They will assess your situation and determine the best programs for you. If done correctly, you will get a clear idea of what is possible.
It is a long established fact that a reader will be distracted.