We Stop IRS Bank And Wage Levies in as soon as 24 Hours!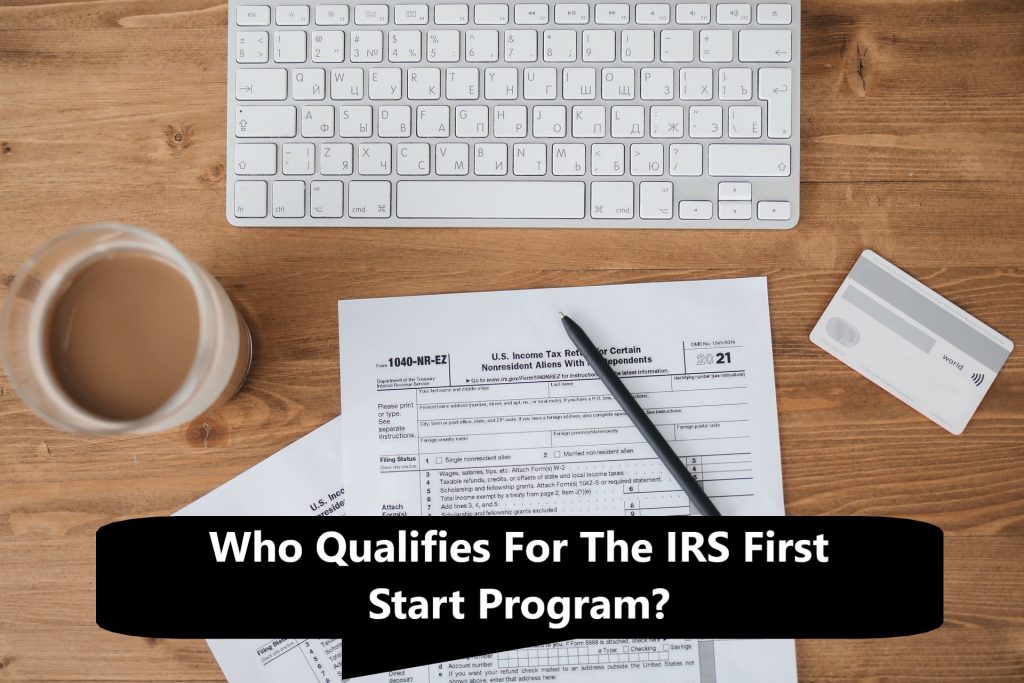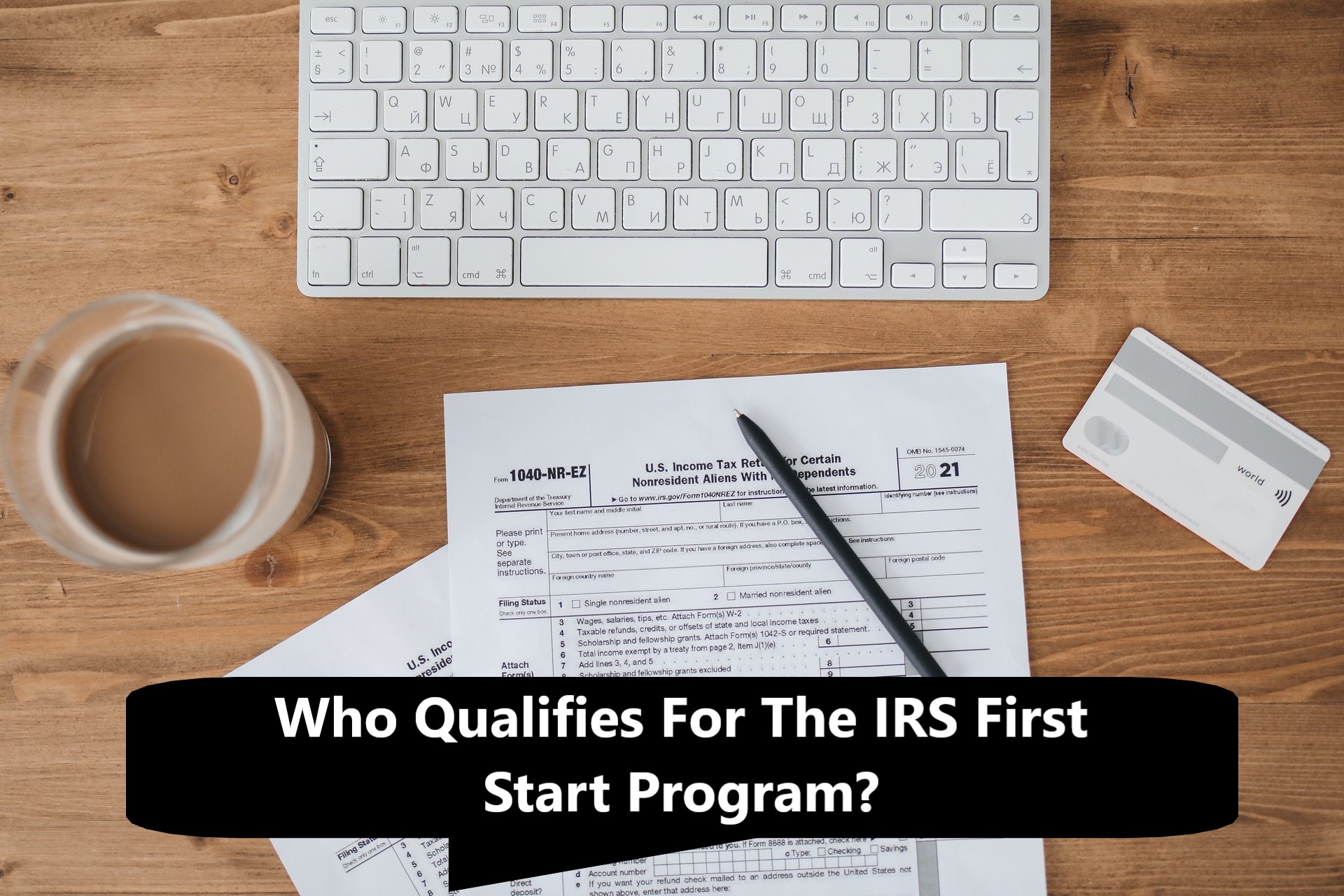 FREE Tax Analysis by the End of Your Call
Who Qualifies For The IRS Fresh Start Program?
Table of content:
Let's start from the top,
Getting behind on taxes can happen to anyone. And now that it's that fun time of year again when you're preparing your taxes, gathering the receipts, and figuring out how much you're getting back. But in the case of anyone with delinquent taxes, a fresh start would be the dream.
The truth is, IRS tax debt can happen to anyone, no matter how much you make every year or how old you are. And if you've ever had to face dealing with back taxes or penalties before, you may not know exactly how to deal with your tax debt while still staying on top of your everyday bills and budget.
However, there is hope out there for you yet in the form of the IRS Fresh Start program. You may have heard about the Fresh Start program and that it is something that can help you save on your back taxes. It's not some mirage in the middle of the desert of your tax debt struggles; the fresh start program is one of the best ways for you to pay pennies on the dollar for your back tax debt and penalties.
The tax specialists at Ideal Tax Solution are here to help you understand the complicated process of the Fresh Start program and how you can qualify for it to help with your tax debt. In addition, our tax pros are here to help you solve your IRS tax problems once and for all.
In this article, Who Qualifies For The IRS First Start Program, we're going to take you on a deep dive into everything you need to know about what the IRS Fresh Start program is, how to qualify for it, as well as provide you with a full breakdown of how the tax specialists at Ideal Tax Solution can streamline the entire process so you can get back to living your life without the heavy burden of overdue tax debt and stress.
How Do I Apply for the IRS Tax Fresh Start Program?
There have always been numerous ways that the IRS has offered for taxpayers to pay back their taxes. However, the options available don't always seem straightforward and easy to navigate and apply for, let alone qualify for.
The IRS designed and implemented the Fresh Start initiative to provide you with a complete suite of tax debt repayment options with crystal clear eligibility requirements designed for maximum savings.
Initially, the IRS introduced the Fresh Start initiative as a response to the recession in 2008 when taxpayers all over were struggling to keep up with their back taxes and stay ahead of their current taxes without filing for bankruptcy. The Fresh Start program was created as a way to offer taxpayers struggling with tax debt a clean slate and prevent other adverse actions such as tax liens and levies.
As the program developed since its inception in 2009, the IRS has continued to make additions and updates to the program so that more people are eligible to take advantage of the benefits the program offers. Today, both individuals and businesses can utilize this program to help resolve tax debt and avoid having to file for bankruptcy.
How can I apply?
The Fresh Start program isn't a program you can apply for. However, it does have a long list of specific requirements that you have to meet before you can be eligible to use the Fresh Start program on your taxes.
To qualify for Fresh Start, you have to:
File all of your outstanding returns
Make all agreed payments
Provide your complete financial information, if requested
If you do qualify for the Fresh Start program, you will have the opportunity to get help with one of these three critical tax repayment problems:
Consider offers in compromise.
The offer in compromise option within the Fresh Start program allows you to negotiate an offer with the IRS to settle your debt for less than the total amount that you owe.
Enroll in installment payments
If you're struggling with a significant amount of back taxes, the very thought of paying them back with one large lump sum payment can seem impossible. However, with the Fresh Start program, you're able to make smaller payments every month over a more extended period without being penalized for it.
Eliminate tax liens
The more notices that you've received from the IRS, the closer you're getting to having them place a lien on your assets as it tries to collect on your debt. However, with the Fresh Start program, you're able to remove the threat of tax liens while handling the repayments on your back taxes.
How a Back Tax Assistance Company Can Help You with the IRS Fresh Start Program
While the IRS Fresh Start program provides you with a straightforward way to pay back your back taxes without having to worry about liens or levies, it's still an utterly complicated process. Working your way through the entire process from start to finish on your own can be as overwhelming as confusing.
You have to understand the eligibility requirements for each Fresh Start program option, effectively communicate your situation with IRS, and ensure that you give them any additional documents or data to get your case approved. All of that just feels kind of heavy and complex, doesn't it? That's because it is.
However, with the Fresh Start program professionals at Ideal Tax Solution, you can finally have the help you need to understand your situation, provide comprehensive and expert guidance on your best options, and walk you through the entire process.
Here are the benefits of working with a Fresh Start program specialist like the pros at Ideal Tax Solution:
You will enroll in the correct program right away. 
So many taxpayers file their Fresh Start program paperwork and end up filing it into the wrong program option, or they misfile their paperwork altogether. With an experienced tax company working with you, you'll have a complete understanding of the Fresh Start requirements right away. We help you choose the right option for your situation and ensure that you're enrolled in the right program from the start.
You will make a convincing case.
The IRS will request a collection of papers, information, and accounting information about you and your case to get your program application approved. When you choose to work with a Fresh Start program tax professional, you don't have to worry about trying to make your case. We help you craft, organize, and prepare all of your documentation from the start to ensure a seamless and stress-free process. We communicate on your behalf with the IRS, so you don't have to worry about that.
Save as much money as you can.
We're working with your success and financial savings in mind from the start. If you request an offer in compromise, we can ensure that you pay only what you're able to afford. Ultimately, this allows you to save as much as possible and pay a good deal less than what you owe in back tax debt.
When you're looking for a tax company to help you with your Fresh Start program application, be sure that they have your best interests in mind every step of the way. You want to have a company with extensive experience with the IRS Fresh Start program.
How offer in compromise works with Fresh Start?
Under the Fresh Start program, you can choose to utilize the offer in the compromise option. However, this option is usually considered a last resort for many taxpayers. Even with that said, it is still one of the most effective ways to help you save money on your tax debt because it's designed to let you settle your delinquent debt for less than what you owe to the IRS.
When you apply for an offer in compromise, the IRS has more flexibility in determining your eligibility and evaluating your collection potential in a much more favorable way. For example, before Fresh Start, the IRS simply multiplied your monthly income by 60, or five years, to calculate how much they could collect from you. Now, they multiply your income by either 12 or 24. This means you can usually settle your tax debt for a lot less.
In addition, the IRS has made significant changes to how it defines discretionary income in the Fresh Start program. When calculating your discretionary income, they now consider essential expenses like state tax debt and student loans.
As the IRS is considering your offer in compromise, it will review your ability to pay what you owe, your income, the assets or property you own, as well as your debts and expenses. If they feel that the amount you offer in your Offer in Compromise is equivalent to what they could collect from you over months or years, the IRS may approve your offer.
Here are our pro tips to be sure to do before you submit an offer in compromise:
File all of your outstanding tax returns unless you've been granted an extension.
Pay all of your estimated tax payments.
Confirm that you aren't involved in an ongoing bankruptcy case because this disqualifies you from requesting your Offer in Compromise.
What do I need to file to apply for an offer in compromise? 
To apply for your offer in compromise, you'll have to submit the following forms and documents.
IRS Form 433-A for individuals or Form 433-B for businesses, along with all requested documentation
IRS Form 656
Nonrefundable application fee of $186 unless you meet the IRS's Low Income Certification guidelines
Nonrefundable initial payment for each Form 656 you submit unless you complete the Low-Income Certification guidelines
With every offer in the compromise application, you have to choose the payment option you want to use if your offer is approved. Currently, the IRS offers two different payment options:
Lump-Sum Payment: Your first payment is 20% of your total offer upfront, and then you pay the remaining balance in five or fewer payments.
Periodic Payments: You pay an initial balance upfront, and then you'll pay the rest of the balance every month for a set term.
After you submit an Offer in Compromise, you'll have to wait for the IRS to respond. Be sure that even though you're waiting for your offer to be approved, you continue to make any payment arrangements that you have ongoing. The IRS may still file a tax lien against you while they're considering your offer, but they will pause other collection actions. If for some reason, you do not receive a response from the IRS within two years, they automatically accept your Offer in Compromise.
Installment Payments Under the IRS Tax Fresh Start Program
If you owe the IRS tens of thousands of dollars, you are most likely not able to pay it off in a lump sum. That's why the IRS offers installment payments which are designed to allow you to negotiate to pay smaller amounts periodically over a more extended period.
In the same way, the IRS did for the Offer in Compromise in the Fresh Start program. They also changed the way they approach the terms for installment payments. Before Fresh Start, only if you owed $25,000 or less in tax debt could you qualify to make installment payments. Since Fresh Start, you can now owe up to $50,000 and be able to be eligible for the installment payments option.
You can request up to six years to pay off your tax debts with the Fresh Start program. This provides a much more extended period to make more reasonable payment amounts every month to stay on top of your delinquent taxes.
What do I need to have together to apply for the installment payment plan? 
Before you apply for the installment payment Fresh Start option, be sure that you have gathered everything together, including:
Name and address that matches your most recent tax return.
Date of birth
Social Security number or your Individual Tax ID Number
Your filing status
A current email address
A bank account number
A mobile phone in your name, or an IRS activation code so the IRS can verify your identity
A valid checking account so the IRS can debit your account every month
How do I request an installment agreement? 
To file your request for an installment agreement, you'll need to submit IRS Form 9465 or use the IRS online payment agreement application to apply as an individual or a business. Once you start your installment plan, you will have to pay monthly until you've paid off your debt. In addition, you may be required to pay a setup fee as well.
IRS Tax Lien Withdrawal Under the Fresh Start Program
When you neglect to pay your taxes every year, the IRS has quite a few options they can use to collect your debt from you. First, they will mail you a bill that outlines everything you owe. You will undoubtedly receive more than one of these kinds of notices from them. If you choose not to pay your debt by the due date, the IRS has the authority to file what's called a Notice of Federal Tax Lien on you. It essentially means that they've laid claim to your assets.
It used to be that the IRS could place a tax lien on someone's assets even if they only owed small tax debt. However, with the Fresh Start program, you have to owe $10,000 or more in back taxes for them to be able to file a tax lien on your assets.
There's still good news yet, thanks to the Fresh Start program! Under it, there is a way to prevent the IRS from placing a tax lien on your assets even if you owe $10,000 or more. How? If you choose to set up a streamlined payment plan with them, they won't file a lien against you.
Even if the IRS has filed a tax lien against you, there is a way to have it eliminated. How? You have to file all of your tax returns for the past three years, and if you've done that and submitted all your tax payments, they will eliminate the lien. However, if you don't meet these requirements, you can still choose another option to have your tax lien rescinded.
Thanks to the Fresh Start program, you can apply to have your tax lien removed if you meet the following specifications:
Owe less than $25,000 in back taxes.
Agree to an installment plan covering your entire debt for 60 months via direct debit.
Apply for a tax lien withdrawal after making three consecutive installment payments.
Haven't defaulted on another direct debit installment payment plan.
Have filed all outstanding tax returns and made estimated payments.
No matter what stage of your tax repayment journey you're at, removing a tax lien is one of the best ways to get your life back.
If you find yourself struggling to pay your back tax debt, the Fresh Start program is designed to help you get over your tax debt without all the stress and worry. If you're ready to live the tax debt-free life that you deserve, be sure to call the tax professionals at Ideal Tax today. We have the experience and expertise to walk you through the entire Fresh Start program, identify which option is best for you, and help you solve your tax problems once and for all.
Call us to find out how we can take the stress and worry away around your tax debt today!
We provide professional guidance to people whose lives have been affected by tax problems. To evaluate your specific tax issue and determine if you qualify for tax relief,  please contact us for a free consultation. We are COVID-19 prepared, we will work with you over the phone and via e-mail.
The content of this post does not replace the advice of a licensed tax professional. Consult a qualified tax professional for questions specific to your circumstances.
 Based on over 140 Google reviews
Shard Patterson / February 2-2022
Thanks, Ideal Tax awesome job.
I been dealing with Ideal tax solution for some years now, the first person that was doing my case was not up to par. I was not getting results and the IRS was coming back at me, but the new case manager that took over my case came in with an iron fist and took on my case. The end result was she fought and got my tax issue resolved for less than $100.00 awesome job.
Maria Ceja / January 29-2022
They are super professional and helpful
Ideal tax has helped me resolve my IRS tax liability. My case managers Elizabeth and Rachel were super professional and helpful. They helped my every step of the way and were there to answer all of my questions. Rachel even stayed with me on the line helping me sign the final letter. Thank you Ideal Tax
Omar Al-masri / December 21-2021
Honest and Reputable Firm
Honest and Reputable Firm. Did as they say they would with my IRS case. Had past experience with 2 other tax companies and were horrible experiences. Highly Recommend if you have a tax debt that you need addressed through the Fresh Start Programs.
Mildred Tobias / November 15-2021
I was very pleased with the staff from start to finish.
I was very pleased with the staff from start to finish.
Everyone was very professional yet showed so much compassion. Not meeting anyone in person, you felt their need wanting to help you in their voices. I am so pleased I found this group (Ideal Tax Solution) and highly recommend them for your tax issues.
Thanks again guys for being there, take care and be safe.
Tax Problems Don't Solve Themselves.
Put it behind you with help from the experts at Ideal Tax
We Help Individuals & Businesses Across the Country
When you work with Ideal Tax, you can finally rest assured knowing that you will receive the most efficient tax resolution plan that is legally possible.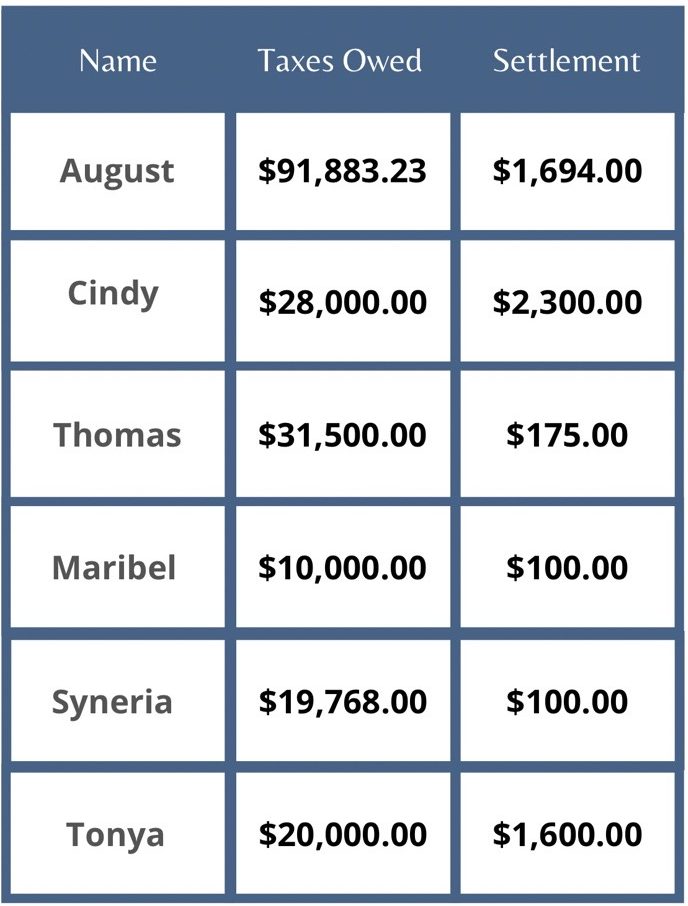 We Take On the Hard Stuff For You, And We Get Results!
Tax Relief is about setting up a payment schedule or negotiating a settlement with the IRS. This is not about getting rid of your tax obligations. It's more about helping you to pay off your tax debt. 
How To Find The Best Tax Relief Help?
Are they qualified to offer tax relief services? While the IRS requires that a representative be licensed as an attorney, CPA, IRS Enrolled Agent or attorney, that doesn't make them eligible to provide such services. 

Tax relief is a highly specialized area in tax law. It is crucial to ensure that the professional or firm you choose has the experience and knowledge necessary to provide the best results.

Are the tax professionals licensed to own the company? There have been many tax relief companies that have emerged to capitalize on the growing demand for their services. However, they may not adhere to the legal and ethical compliance requirements of professional licensure. 

There can be a temptation for firms not to adhere to the rules of licensed ownership. This could lead to a tendency to prioritize sales goals over ethical business practices.

What's their reputation? This is a difficult question because companies who promote themselves online will put information that they want you to see, and exclude the information they don't. 

It is important to use objective and independent sources.

 

To see what customers have to say about their experiences with a company, check out the Better Business Bureau and Ripoff Report.

 

Avoid sites such as "Best of", where companies pay to be included in a positive manner.
Tax Attorney, CPA Or Enrolled Agent?
Experience and performance are more important than any type of license to provide the best representation. A Tax Attorney can represent taxpayers in Federal Tax Court. However, very few cases involving back tax end up there. Most cases can be resolved by the IRS administrative process. It is therefore important to hire a representative who is both familiar with the Internal Revenue Manual, IRS Tax Code and is skilled in applying the rules. It is important to be able to talk to the potential representative and not just a salesperson to make the best decision.
How Much Does Tax Relief Cost?
Tax relief services can cost anywhere from a few hundred to thousands of dollars. It all depends on the type and number of services you need. The cost of tax relief services can also vary depending on the person you choose to represent you and how they bill you.
Will I Qualify For A Tax Settlement?
The IRS is the only entity that can make the final decision. However, qualified tax relief professionals can help you determine if your situation qualifies for the program. Our CPAs, EAs have been able to determine whether clients are eligible for the program with an accuracy of more than 90%. OICs that are successful average savings of 95% on the balance owed.
Will Tax Relief Solve My Tax Problem?
Reputable tax relief companies will conduct a thorough assessment of your situation with licensed tax relief professionals. They will assess your situation and determine the best programs for you. If done correctly, you will get a clear idea of what is possible.
It is a long established fact that a reader will be distracted.