Currently Non Collectible Status
It is a long established fact that a reader will be distracted.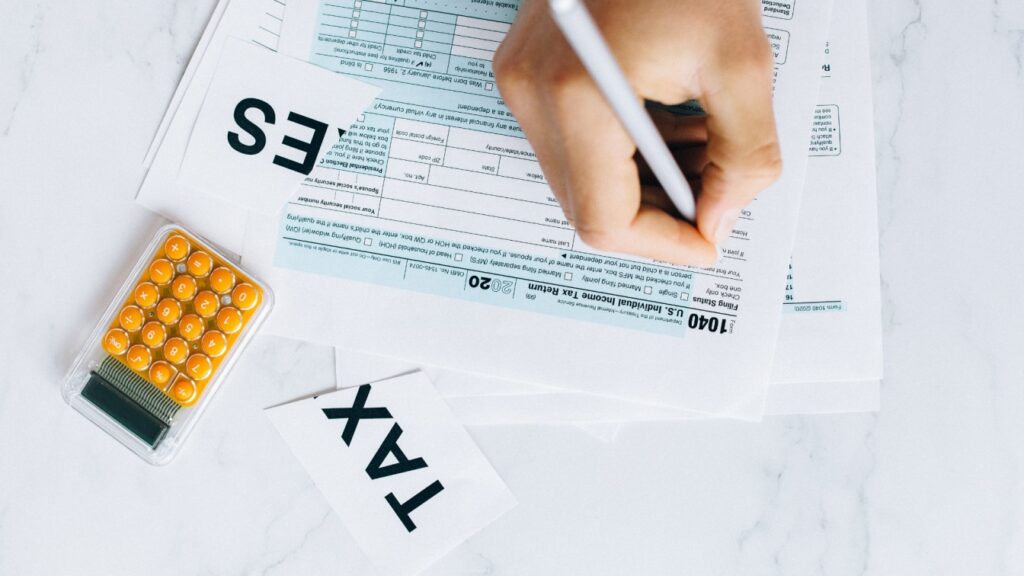 IRS Not Collectible Status
What is IRS Not Collectible Status?
It's not always a priority to pay your tax debt. It's not always possible to pay your tax liability. You already have rent, mortgage, car payments, and insurance. You may be eligible to be placed in Currently Not Collectible (CNC).
The IRS will not attempt to collect on your account if it is placed in CNC status. They won't even levy any income or assets. The IRS will release any levy that you have, and all enforcement and collection activity will be suspended. However, The IRS can still assess penalties and interest on your account and may even keep your refund to pay your tax liability. Even if you're in CNC, voluntary payments can still be made to the IRS.
What does non-collectible status mean?
Currently Not Collectible is the IRS's decision to conclude that a taxpayer cannot afford their federal income taxes. This status protects taxpayers against the "aggressive tactics by the IRS Collection Division."
(Avvo.com "Currently Not Collectible Status," 8/18/2013).
For taxpayers who wish to negotiate about their obligation to pay owed taxes, the IRS CNC status can be useful.
After receiving evidence that the taxpayer is unable to pay, the IRS can declare a taxpayer "IRS Currently not Collectible". This evidence can be obtained from the taxpayer using IRS Form 433F, Collection Information Statement. The IRS Automated Collection System unit can be used to request that a taxpayer is considered currently not collectible.
What happens if a taxpayer is declared IRS Currently Uncollectible?
Simply put, the IRS will stop trying to collect back taxes if it is placed on currently non-collectible status. After the IRS receives proof that the taxpayer is unable to pay the tax debt, this status is granted. Although it does not remove any tax debt owed by the IRS or attempt to settle it, being currently not collector status is an important option for taxpayers who cannot afford to pay back the IRS back taxes.
The IRS ceases all collection activities including issuing garnishment and levy orders once a taxpayer has been declared IRS CNC. The IRS sends a taxpayer an annual statement outlining the tax owed. The annual statement is not considered to be a bill.
The IRS manual describes the procedures IRS professionals use to report accounts that are not currently collectible. IRM 1.2.14.1.14 Policy Statements for Collecting Process states that an account can be removed from active inventory following the collection process (IRS.gov "Part 5). Collecting Process, Chapter 16. IRS Currently Not Collectible Section 1. IRS Currently Not Collectible, Section 1.
CNC is more likely to be offered to taxpayers whose assets are not found. The IRS will not be able to collect a taxpayer's account if it doesn't have the means to do so.
This code is also known as the transaction code 530.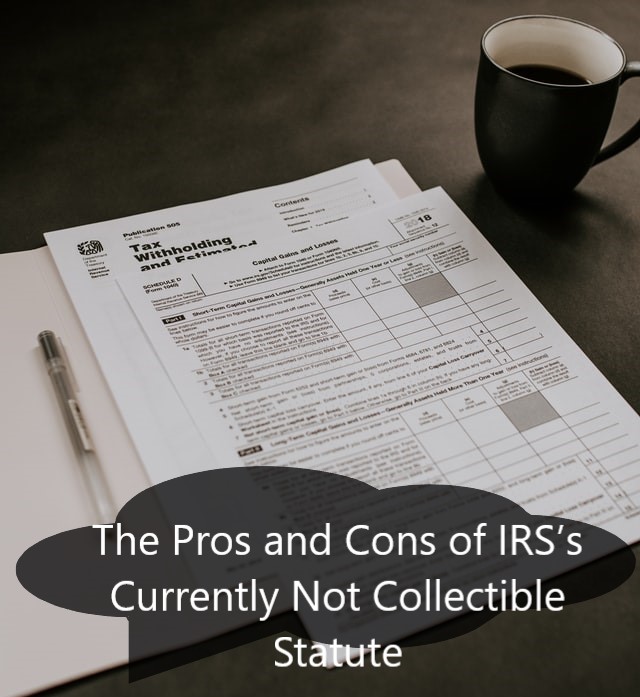 The Pros and Cons of IRS's Currently Not Collectible Status
There are pros and cons to receiving a status that is currently not collectible. This depends on the taxpayer's ability to pay taxes. This consideration will be given to the taxpayer if they are unable or unwilling to pay. The IRS will collect the debt if the taxpayer is unable to pay the tax owed. If the taxpayer can establish a payment arrangement, the IRS has a 10-year statute that can be used.
CNC should not be viewed as a permanent method of resolving tax debt. The pros of the status are that you will not be subject to levies (which is what the IRS uses to garnish your wages and lock your bank account until taxes are paid). On the negative side, federal tax liens will still apply to your property or home. . ."
If you sell your property, the proceeds will be used to pay your taxes. This means that you will likely have to pay IRS-imposed penalties and interest. After you are granted CNC status by the IRS, the IRS will continue to examine your financial situation to determine if you can pay the taxes due.
The IRS will monitor your financial status and review reports from other parties, such as banks and employers. If the IRS finds that your income has increased significantly, you will be removed from your current, not collectible status. This financial review does not apply to those who have a fixed income (such as a pension, Social Security, or disability).)" (Hein). You can remain in the currently not collectible state until your tax liabilities are paid.
Uncollectible Status has obvious advantages. It will buy you time with the IRS, and the 10-year statute of limitations for collection continues to tick.
However, Uncollectible Status comes with its drawbacks. Penalties and interest will continue to accrue, and the IRS will revive the case in Collections. The debt will be much higher.
After acquiring Uncollectible status, I believe it is best to submit a compromise offer as soon as possible. When the taxpayer is in financial distress, it is the best time to owe money to the IRS. If the Revenue Officer has determined that your client is in financial hardship and cannot pay taxes, there's a good chance that an offer of compromise will be accepted. The taxpayer can then get rid of the debt permanently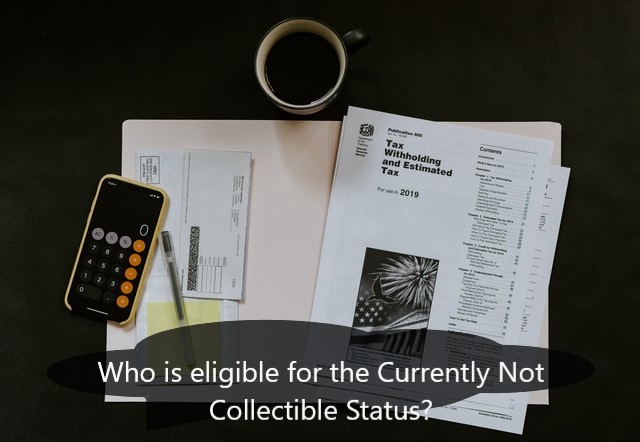 Who is eligible for the Currently Not Collectible Status?
2020 will certainly be remembered for being one of the most turbulent and difficult years in American post-modern history. Wall Street was portrayed as a place of great prosperity, but Main Street has suffered the worst economic downturn since The Great Depression. A hundred thousand people lost their jobs because of the COVID-19 pandemic. Meanwhile, the cost of living soared. To make ends meet, people emptied their retirement and investment accounts. Many who liquidated their retirement and investment accounts in 2020 could face a devastating tax bill from Uncle Sam next April. Some taxpayers will be able to pay their taxes in full, while others may qualify for a monthly installment arrangement. However, many others will struggle to keep the lights on at home and make the monthly payments to Uncle Sam. What can a taxpayer do when they are forced to choose between paying rent or the IRS?
Any taxpayer who owes the IRS tax and cannot pay monthly payments is eligible to apply for CNC status. Candidates for CNC need to disclose their gross monthly income, which is what they make before taxes and any other deductions.
The IRS requires taxpayers to describe their "allowable monthly expenses" (expenses that are related to life, health, and welfare or the production income). To determine how much the IRS can send them today, the IRS asks taxpayers to disclose their liquefiable assets.
Taxpayers must also calculate their total IRS back tax liability. You will be eligible for the Currently Not Collectible status if your monthly allowable expenses exceed your gross monthly earnings, and your liquefiable asset is significantly less than your total IRS tax liability.
It is possible that a taxpayer's income situation will change, especially if it exceeds expenses. If this happens, the taxpayer will likely be removed from non-collectible status and returned to their normal payment schedules.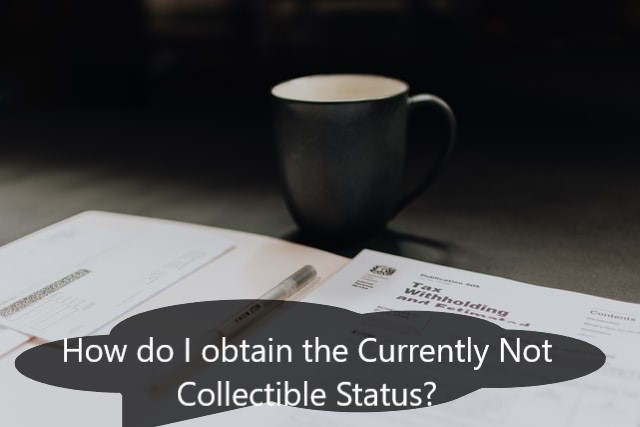 How do I obtain the Currently Not Collectible Status?
You must prove to the IRS that your income is not sufficient to cover your living expenses to be eligible for current, not collectible status. To support your claim of financial hardship, the IRS may ask you to provide financial information. Once the IRS declares a taxpayer not collectible, all collection activities must cease, including garnishments or levies.
How to request currently not collectible status?
You can obtain currently not collectible status by consulting a tax attorney. They are experts in the resolution of IRS back-tax liabilities and will review your financial situation to assess whether it is worth pursuing the Current Not Collectible status. If hired, they will also handle the rest. You can also apply for currently not collectible status by contacting the IRS directly using Form 433F, Collection Information Statement. You should ask the IRS for an updated tax balance, which will include interest and penalties. It is important to know what the current balance is. You can also file tax returns to request currently not collectible status. All receipts should be kept as proof that your request was sent to the IRS. This means that you will need to document your financial situation for the IRS to assess it.
The IRS will first look at any nest egg you might have, such as a savings account to pay your taxes. If you don't use it for living expenses, the IRS may also search for it.
The IRS will ask you to show proof of your income and living expenses if you don't have assets to pay off the debt. The IRS wants to know if you can pay the debt with an installment agreement.
You may be asked by the IRS to submit a financial statement (called Form 433). The IRS may ask you to show proof of your monthly income (with bank deposits and paystubs) and your monthly living expenses (with receipts).
But here's the catch:
 You can have expenses set by the IRS. The IRS can limit your expenses to $497 if your monthly car payment exceeds $1,200.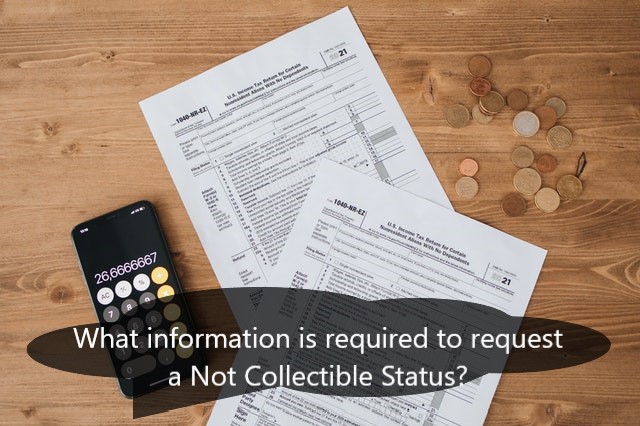 What information is required to request a Not Collectible Status?
The IRS will ask the taxpayer for information about their finances before placing a taxpayer's account in CNC status. This can be done by filling out Form 433F or Form 433A, Collection Statement. If the total amount due to the IRS does not exceed $20,000, the IRS will not ask the taxpayer for a completed Form 433F or 433A. The IRS will not require a taxpayer to file Form 433F or Form 433A if he is seriously ill and has substantial medical bills.
How to file currently not collectible with IRS?
It is necessary to show that you are unable to make monthly payments. To prove your claim, you will need specific information and various documents.
To meet CNC eligibility requirements, the following information is required:
Copies of the latest paycheck stubs for each job for the last month
Copies of your most recent statements of monthly income received
Copies of the most current real estate tax bill, for any property owned, even if it is owned jointly with another person
Copies of utility bills (electronic, water, sewer, and gas)
Copies of the lease or mortgage statement showing monthly rental or mortgage payment
Copies of all credit card statements, including the most recent one
Copies of each car's most recent personal property bill
Documentation of assets, such as stocks and bonds.
Documentation of monthly expenses related to food and necessities, daycare and medical expenses, and court-ordered payments like child support or spousal support
If you're married, you must submit the above information for both spouses.
This proof of income is only applicable to Social Security benefits, retirement income, pensions, child support, and/or the TANF.
The IRS demands that you know when you purchased the property and how much it cost. It is important to know how many miles each car has traveled and what the monthly payments are.
How to apply for currently not collectible status?
Listed below are some reasons why accounts are in uncollectible status.
Death of the taxpayer without any collection potential from the estate (cc 8)
The taxpayer cannot meet his or her ordinary and essential living expenses (hardship, ccs 24-32).
Expiration partial or total of the statute for limitation for the collection of tax (cc 04/05).
Unable to contact a taxpayer, even though the address is known. There is no way to enforce collection (cc12).
The business cannot pay back taxes, but it can keep current (cc 13).
An exempt organization, corporation, or limited liability company (LLC) is identified as the liable taxpayer that is liquidated in bankruptcy (cc07).
Other than the taxpayer's living expenses other factors can impact the taxpayers' financial situation.
The taxpayer's employment and age.
The number, health, and age of dependents for the taxpayer.
Cost of living in the tax-paying area
Extraordinary circumstances, such as medical hardship, special education costs, or natural catastrophes.
If the taxpayer is forced to move, how much economic loss would that cause?
IRM Section 5.16.1.2.9(6) states that verification of a financial report is not necessary if there is an aggregate unpaid balance of assessment less than $10,000 and at least one condition:
The taxpayer is suffering from a terminal illness or has excessive medical bills.
The taxpayer is in prison.
Social Security, welfare, or unemployment are the only sources of income for the taxpayer.
The taxpayer is unemployed and has no income source.
Accounts with an aggregate unpaid balance exceeding $100,000 will require additional verification under IRM Section 5.6.1.2.9(8)
Individual credit reports. Before an IRS employee can order one, the IRS employee must request a copy from the taxpayer. A taxpayer's credit score will be affected by an IRS inquiry about their credit report. This new IRM provision is not known by all IRS employees.
Motor vehicle records.
Online or in-person courthouse records check for personal or real property ownership.
Requirements for IRS currently non-collectible status
To be deemed non-collectible by the IRS, a taxpayer must show that they are experiencing severe and obvious economic hardship. The IRS will request detailed financial information from taxpayers, usually in the form of financial statements
(433-F and 433-A).
The IRS will determine the ability to collect the account after analyzing all financial information. This includes supporting documentation like bank statements and verifications of monthly expenses. The IRS will take the account out of its active collection queue if it is found to be uncollectible.
If the account is deemed to be collectible, the IRS will request payment terms. This is based on the IRS's analysis of the taxpayer's financial situation.
Advantages/Disadvantages of IRS Currently Non-Collectible Status
The IRS is currently in non-collectible status. This is because the CESD (10-year statute of limitations on collection) continues to apply to the account even though the account has been deemed uncollectible. The IRS will have less time to collect the taxes from taxpayers once they are deemed collectible. For those who cannot afford small monthly payments to the IRS, this should be a consideration. You might not have to pay any taxes to the IRS until you're free from financial hardship. Then, you can get rid of the entire liability. The main disadvantage of the IRS currently in non-collectible status, however, is that it is temporary and usually lasts no longer than two years. After being deemed collectible, the taxpayer will have to apply for IRS currently not-collectible status again. You may also be removed from IRS non-collectible status without warning. Then you will need to scramble for resolution. Although your financial situation may not have changed since being deemed non-collectible you will need to submit financial information again to be considered non-collectible. The IRS is currently not collectible status does not suit everyone. If you are eligible, however, this status can offer much-needed relief from IRS collection problems. Fill out a financial statement detailing your income and expenses to determine if you are eligible for non-collectible status. Alternatively, you can contact us using this contact information. One of our tax attorneys will screen you and determine if IRS is currently non-collectible.
How long does an IRS's current ineligible status last?
The IRS is currently in non-collectible status. It can last anywhere from six months to more than two years.
We have seen many clients go bankrupt and stay there until the IRS's time limit (10 years) expires. After that, the IRS debt is permanently erased and forgiven.
What would cause the IRS to take you out of their uncollectible case list to determine if your financial hardship status has been lost?
The IRS demands that all future taxes be filed and paid on time to avoid being uncollectible. If you're self-employed and have had difficulty saving money for taxes in the past, this will make it impossible to remain uncollectible.
What should you do if your taxes are not being paid on time?
An increase in your income may indicate to the IRS that there is no financial hardship. When they determine that you are not currently collectible, the IRS will look at your tax returns in the future and compare your income levels. The IRS will contact you if there have been significant changes in your income to determine if it is possible to pay.
The IRS may place your account in a currently non-collectible status. They will mark a follow-up date to review your account.In most cases, the IRS will grant you two years of uncollectible status until the follow-up date. If there is a sign that you could have a greater ability to pay, the IRS will mark your case for future review. If you earn significantly less last year but have a decline this year and are unable to make payments to IRS, the IRS may mark your case for future review to determine if the hardship continues.
…
Why should I hire Ideal Tax?
Ideal Tax will provide excellent representation and personal attention. They have years of experience dealing with the IRS. Some tax "experts" are nefarious and will offer a low price for the work required. They may then hand off the work to a paralegal, or simply prepare the documents without following up with the supporting documentation. They might not be able to negotiate with the IRS on your behalf.
How to get CNC status with IRS?
Ideal Tax attorneys will handle all your legal needs, including IRS negotiation if necessary. Your work will not be given to lower-level support staff. You will always receive the personal attention and expertise of an experienced attorney. You will not be given false expectations by the firm's staff. If you are unable to qualify for the not currently collectible status, your lawyer will work with you to obtain some relief from IRS.
IRS often attempts to disqualify a taxpayer from currently non-collectible status (CNC) because the taxpayer's expenses are not necessary, or the taxpayer's income is higher than claimed. Ideal Tax's tax attorneys are skilled negotiators with a deep understanding of tax laws and IRS manuals. We will maximize your chances of being placed in currently not collectible status. For more information, please contact (888-224-3004).
Ideal Tax Solution Representation
Ideal Tax Solution has the experience and knowledge to handle the most serious of tax audits. Our expert Tax Attorneys and Enrolled Agents will negotiate with the IRS on your behalf and ensure that your taxpayer rights are protected and that the IRS auditor is playing on a level field. Call us today to discuss how we can develop a strategy that will allow you to address the audit and resolve it with better than acceptable results.
"Ideal Tax was absolutely wonderful because they helped me tremendously. I would recommend them to anybody that had a life experience that threw them in the wrong direction and tell them to definitely give Ideal Tax a call. I was mainly working with Christopher and Ryan was the gentleman that helped me towards the end after it was resolved."
"Many Thanks to Ideal Tax for resolving my tax problems! It feels as though I've been set free, without all the fear and heaviness I was feeling overjoyed when I received my letter from the IRS and they accepted my Offer in Compromise! This is a legitimate company that I will recommend to anyone, no matter what your tax situation is. What a Christmas present!"
"I was finding a way to resolve my tax debt so I got in touch with Ideal Tax. Their rep Nathan, was very professional. He asked the right questions and we felt pretty confident just from his expertise that we were listening to. Ideal Tax was successful and it relieved a lot of tax debt. I will always remember them in a positive way and I was completely satisfied with their work. I'd definitely recommend them."